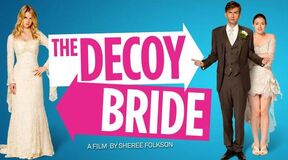 Welcome to the Decoy Bride Wiki!
This wiki is for the 2011 romantic/comedy movie, The Decoy Bride, directed by Sheree Folkson. It was filmed on the Isle of Man in Scotland and was produced by Douglas Rae.
Main Characters
Featured Media
Latest Poll
What is Your Favorite Island Location?:
Recent Blogs

Create blog post
Refresh
Here you go! A little playlist to keep you going in your day!! Hope you like it!:D

Read more >

I know a lot of people love this movie, like me, but lately I've been wondering, what the heck is going on?? I look on the internet for this movie, including on wikiedia, and find no information at a…

Read more >

The movie "The Decoy Bride," is a special treat, and this wiki is for all the fans who would enjoy this movie and would like to learn more about it. It's hard work creating a wiki, but together we ca…

Read more >
See more >
Ad blocker interference detected!
Wikia is a free-to-use site that makes money from advertising. We have a modified experience for viewers using ad blockers

Wikia is not accessible if you've made further modifications. Remove the custom ad blocker rule(s) and the page will load as expected.